Folk Art Mini Cooking Stove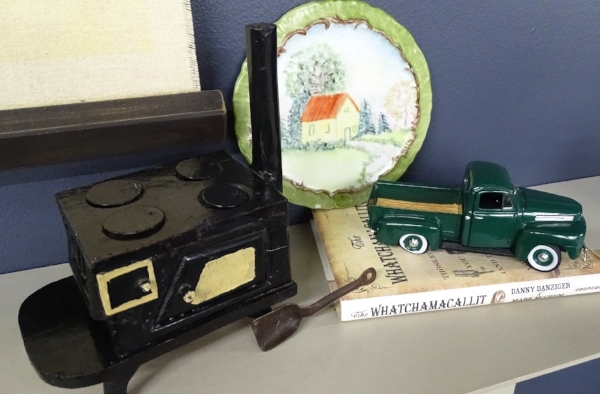 Folk Art Mini Cooking Stove
Folk art wood mini wood cook stove that is clearly hand made with shiny black paint and camel color accents. This is a replica of cook stoves from years gone by. Comes complete with stove pipe attached and four burners with burner covers that actually swivel in place and a small metal coal shovel. This made me so happy when I found it at an Estate sale this past weekend; hard not to keep for myself!
This is fragile and would not withstand to be used as a toy; but a mantel display - the best! Picture it by your fireplace with some other Americana accents.
In decent vintage condition, one of the doors is not flush with the side and I am hesitant to try and free it up, it may break. Does not really detract from the piece at all.
Dimensions:
5 1/2' wide, 3 3/4" high (7" high including pipe), 3 1/2" wide
Shovel is 3 1/2" long