Vintage Covered Ironstone Transferware Bowl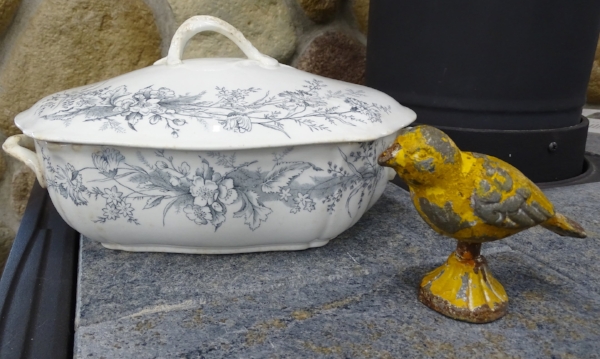 Vintage Covered Ironstone Transferware Bowl
This beautiful antique Johnson Bros transfer ware covered bowl/tureen is in an unidentified blue or gray floral pattern. It is from an estate of a family that had owned a particular house for over 90 years. The bowl and lid are in fine condition with only two small chips on the underside of the lid. There is quite a bit of discoloration along the top and bottom edge of the bowl and on and around the handles. There are some slight discoloration spots on the body of the bowl also but the top of the lid has no brown markings. I cannot find a date for the stamp on the bottom, but from what I read this color was made after WWI in the 1920's. The bottom is marked Semi-Porcelain, Johnson Bros, England.
I picture this on the Thanksgiving table with Grandma's yams inside - and then displayed on a shelf to enjoy the rest of the year. Perfect piece of Americana!
Dimensions:
Bowl - 6 6/7" wide at the base, 9" wide at the top, 10 3/4" wide with the handles
6 1/4" deep and 2 3/4" high
Lid - 9 3/4" long, 7 1/4" wide, 2 3/4" high. Fits securely atop the bowl.