Vintage Tin Tree Stand with Nostalgic Winter Scenes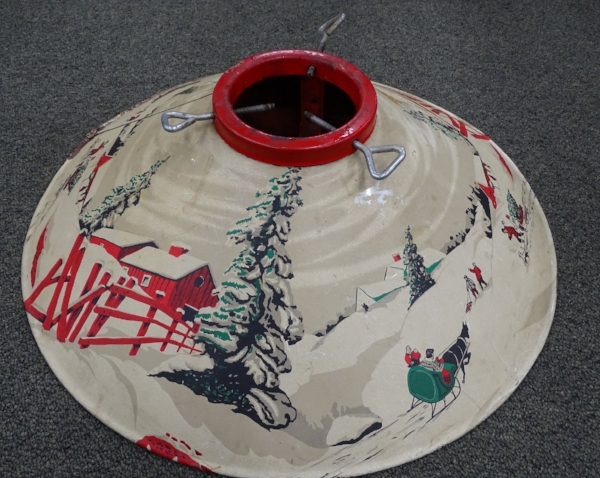 Vintage Tin Tree Stand with Nostalgic Winter Scenes
This vintage tin Christmas tree stand is in good condition for its age. This Coloramic tree stand was manufactured by Poloron Products, Inc. in New Rochelle, NY most likely during the 1950's. It was Model No. 398 and features a lithograph of a charming winter scene that is right out of a Currier & Ives painting.
The opening for the tree truck measures approx. 4" round, and three screws are including for securing the tree. There is a hole on the back side to allow for watering the tree. (I did not test for water-tightness as we have an artificial tree in the stand.)
There are a few blemishes on the stand; towards the back is a spot with what appears to be a glue like substance. (I did not try and remove for fear of taking the paint of that design.) There is also rust along the bottom of one section, on the top opening and on the bottom of the stand. None of these issues detract from the beauty of the piece at all.
This stand is made from tin and is painted in the traditional Christmas colors of red and green with black, white and gray accents.
Dimensions:
19.75" Round x 6" High with a 4" opening for the tree.